While much of the attention in 2021 has been on NFTs, another trend has been growing that could eventually be even bigger: the Metaverse. One extension of this is play-to-earn blockchain gaming. And one of the pioneers in the space is the video game (and token) Axie Infinity.
What Is Axie Infinity?
If you're a Pokémon fan looking to get into crypto, Axie Infinity may be the on-ramp for you. Founded in February 2018, Axie Infinity is an Ethereum-powered play-to-earn game that enjoys great popularity worldwide, with over one million active players every day. There are animated characters called Axies that gamers treat like pets. Each Axie is a non-fungible token (NFT) with different attributes. Newcomers start by buying Axie NFTs, of which at least three are needed to join the game. Those already in the game are motivated to breed new characters and profit from selling them. Users earn tokens in the game by improving their gaming abilities and contributing to the Axie metaverse.
The platform comes with its own unique cryptocurrency, the Axie Infinity Shards or simply AXS. Holders of the asset can stake their tokens, which allows them to take part in community governance and earn additional rewards. Investors can trade AXS, which has returned a stunning 16,600% in 2021.
What Are Axie Infinity Shards (AXS)?
As the official token of Axie Infinity, Axie Infinity Shards permits users to claim rewards by:
Playing the game
Staking tokens
Participating in voting sessions
One use of AXS is to purchase Axies, the characters in the game. AXS can also be used to buy land and items and to breed Axies which can later be auctioned off.
Users can earn additional rewards by playing games connected to the Axie metaverse. The staking option works when individuals lock up their tokens in anticipation of receiving new tokens. Those who stake their tokens must engage in gameplay and key governance voting.
In early 2021, the Axie Community Treasury was established. The project is designed to collect revenue generated by the Axie Infinity platform and related staking rewards. The Treasury is currently on a mission to become more decentralized. Once this occurs, it will be fully governed by users staking AXS.
AXS Price Action: How Far Has the Token Gone?
As of December 2021, AXS is trading for around $95. The currency first came around in November 2020 and was initially priced at 13 cents. The token did not experience any significant price action until March 2021. That's when it rose beyond the $5 mark. It would hit $10 a month later.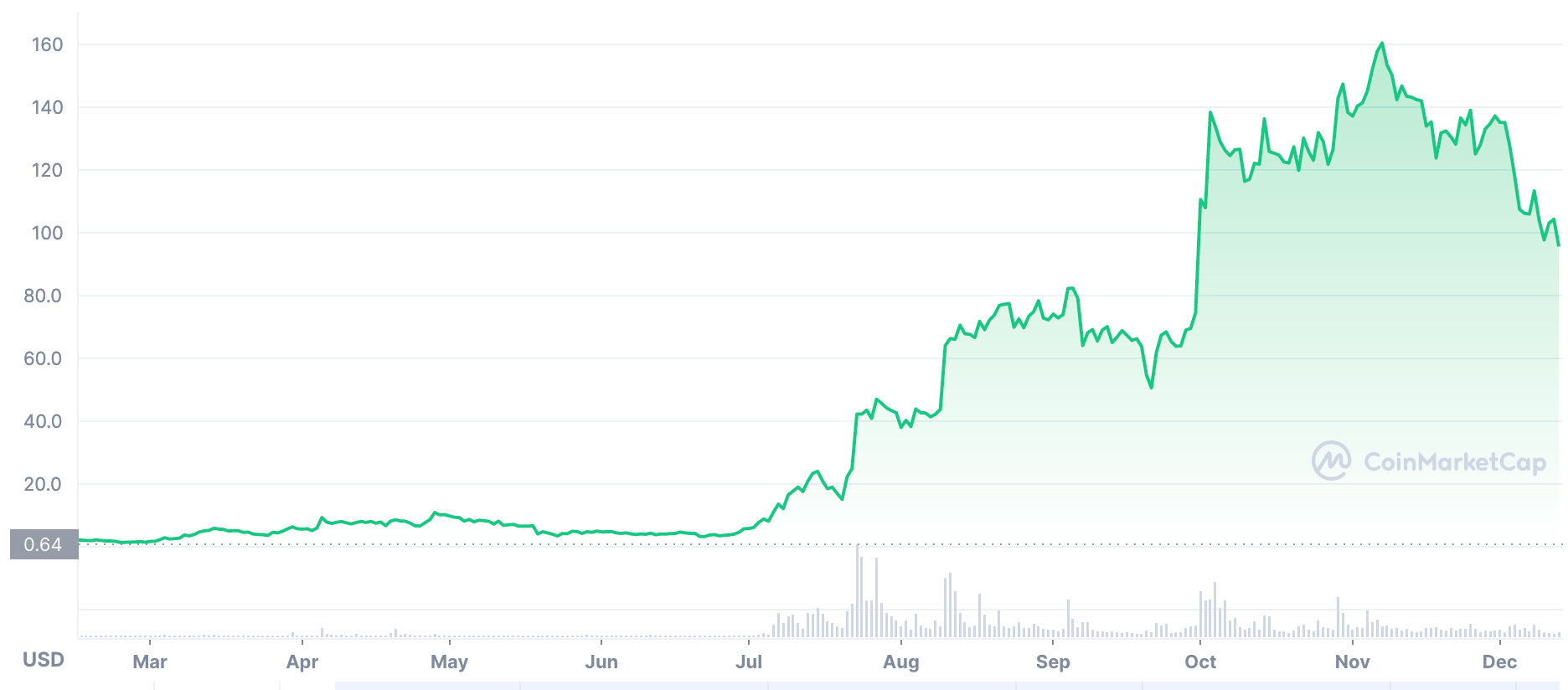 The currency experienced a heavy dip in June and was trading for just over $3. However, July would see the currency incur the first of what would be several major price spikes. AXS first rose to $23 during that period. It eventually reached an all-time high of $160 in November. The asset enjoys a market cap of over $6 billion and a daily trading volume of more than $800 million.
Conclusion
Axie Infinity is a unique platform that allows users to engage in a new, creative metaverse supported by blockchain technology. AXS is the token that gets users started and makes the corresponding ecosystem possible. The token is also an interesting asset for investors. The token itself has shown an impressive performance in 2021. In addition, many experts see great potential in the rapidly growing Metaverse.
If you want to get into the metaverse trend, SMART VALOR is one of the few places to do so. Start investing the SMART way now.