Crypto markets haven't been inspiring in 2022. The markets have been in an extended downturn that's created tough times for everyone evolved in crypto. Times like these allow us to look into the psychology and sentiment of the market, comparing the negativity of the market bears with the enthusiasm seen from crypto bulls.
Bullishness is a term used to describe investor optimism regarding expectations for rising asset prices. Conversely, bears have a negative outlook, believing price will continue to decline. As macroeconomic conditions deteriorated in late 2021 bearishness increased. Later, events such as the collapse of the UST stablecoin, and the freezing of assets at a number of lending and investing platforms gave bears more strength. However the bulls were just waiting to charge back in.
Below are tweets from five recognized crypto experts. These are people who, in many cases, got into crypto at early stages, and have been instrumental in spreading the word about crypto. If they are still bullish maybe there's a lesson for us in their words.


Dan Morehead (Pantera Capital)
Dan Morehead is the CEO and founder of Pantera Capital, the first institutional asset management company to create a Bitcoin fund back in 2013. Bitcoin was at $65 when that fund was launched and as the tweet above shows Dan - and Pantera Capital - are just as bullish now on cryptocurrencies as they've ever been. With $5.1 billion in assets under management Pantera is the largest crypto hedge fund in the world.
Michael Saylor (MicroStrategy)
Michael Saylor is the founder and CEO of MicroStrategy. While we don't know his personal holdings, we do know that MicroStrategy is heavily invested in Bitcoin. With 132,878 BTC as of July 22, 2022, MicroStrategy has the largest amount of Bitcoin of any publicly traded company. Saylor is a well known Bitcoin maximalist and has maintained his Bitcoin strategy throughout the bear market, saying MicroStrategy plans to hold BTC "through adversity."
Barry Silbert (Digital Currency Group)
Barry Silbert is the founder and CEO of Digital Currency Group, the parent company of Grayscale, GenesisTrading, CoinDesk, TradeBlock, and FoundryServices. He got his start in crypto in 2012 and hasn't looked back, creating an empire of digital asset companies. Grayscale provides investors with easy access to cryptocurrencies through its 17 different managed trusts. It is probably best known for its ongoing battle with the SEC to create a spot Bitcoin ETF in the United States. Silbert sees the current downturn as an opportunity to accumulate more crypto assets at attractive prices.
Tim Draper
Tim Draper is a venture capital investor and founder of Draper Fisher Jurvetson, Draper University, Draper Venture Network, Draper Associates and Draper Goren Holm. He first got into Bitcoin in 2014 when it was still at $600 and has been bullish on crypto ever since. As you can see he has strategies for profiting in bear markets and has remained bullish on Bitcoin even during the current downturn in the markets.
Sam Bankman-Fried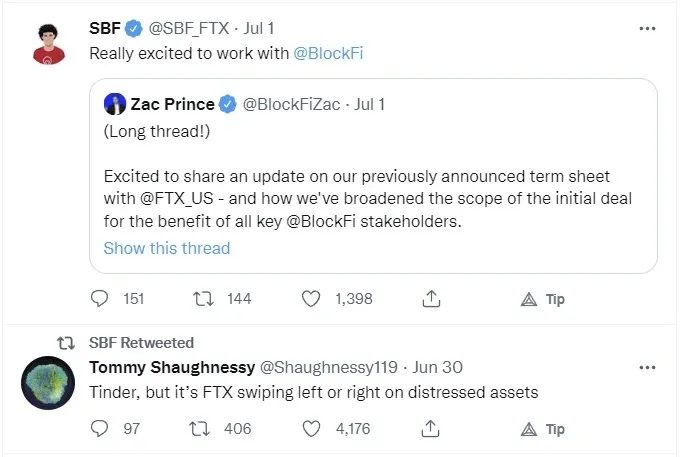 At 30 years old, FTX founder and CEO Sam Bankman-Fried could be the youngest crypto billionaire. But unlike the crypto whales featured above, SBF (as he likes to be called) is buying entire crypto companies. The tweet above highlights the purchase of BlockFi, and the response is a nod to all the other deals SBF has made during the current crypto winter. Those deals include Bitvo, LedgerX, Liquid Group, Blockfolio, and IEX Group. In addition, FTX took a significant stake in Robinhood in May and rumors suggest it could be the next takeover target.
It's obvious that there are smart people who believe in Bitcoin and crypto for the long-term. You can easily follow their advice by creating a SMART VALOR account.